Where we have been and where we are going...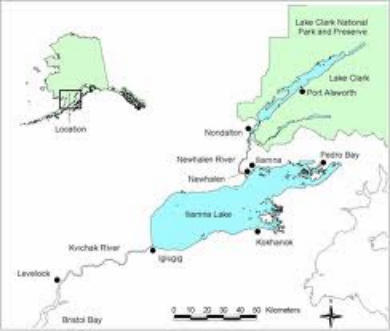 INN Electric Cooperative, Inc. was incorporated as Iliamna-Newhalen Electric Cooperative, Inc. in 1977. The cooperative was organized pursuant to Alaska Statute 10.25.010, et seq., as a rural electric cooperative. The name of the cooperative was later changed to Iliamna-Newhalen-Nondalton Electric Cooperative, Inc. (INNEC). The cooperative is proud to be able to provide reliable and cost effective electricity through its status as a member-owned, non-profit organization.

INNEC provides electrical power to three communities: Iliamna, Newhalen and Nondalton. These communities are located near the North shore of Iliamna Lake in southwest Alaska approximately 185 air miles southwest of Anchorage, Alaska. The three communities have a combined population of approximately 500 residents. There is no direct road connection from these villages to larger populated areas.

Transportation to the Iliamna area is provided by scheduled and chartered air carriers from Anchorage or other towns such as King Salmon and Dillingham. Barge Service to the Iliamna Lake area is available in the late summer months via the Kvichak River if water levels permit. Transportation is also available by a combination of barge from Homer to Williams Port in Iliamna Bay, trucked over a World War II mountain road and barged across Iliamna Lake from Pile Bay to Iliamna.

Electric power has been generated by INNEC since 1983 using diesel generators located in the community of Newhalen. Fuel for these generators was transported up the Kvichak River and across Iliamna Lake. It should be noted that the Kvichak River is one the of the most important Sockeye Salmon rivers in all of Southwest Alaska. Fuel is now mainly transported by air via a DC-6 airplane or in summer months via barge/truck service from Homer. In more recent years, due to a variety of factors, INNEC had to fly in all fuel for the diesel power plant. The cost, difficult logistics and potential spill hazard of this fuel was a primary consideration for development of hydroelectric power in this area. A hydroelectric project was constructed for these communities, starting in the spring of 1996 and ending in the spring of 1998. The project site is located on the south bank of the Tazimina River about 12 miles northeast of the village of Iliamna. The Tazimina River flows west from the Aleutian Range. The hydroelectric site is at the Tazimina River falls about 9 miles upstream from the confluence of the Tazimina and Newhalen Rivers.

---
Tazimina Hydroelectric Plant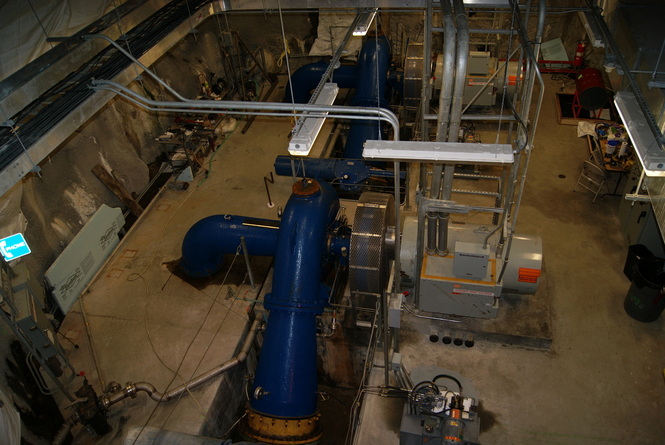 Tazimina Hydro was built with 5 million dollars in State of Alaska Grant Funds and 3.5 million dollars in federal funds. INNEC borrowed 3.5 million dollars to complete the project. This borrowed money on top of the money that was borrowed to complete the diesel power plant in 1983 (2 million dollars) is a crushing load of debt for INNEC with an average of only 310 consumers.

The hydro plant has an installed capacity of 824 kilowatts and is expandable to 1.5 megawatts.
The hydro plant is run-of-the-river (no dam for water storage) and uses approximately 100 feet of natural head provided by the falls. The hydro plant features include water diversion sill blocks, intake structure, penstock underground powerhouse, tailrace, surface control building, buried transmission line and communication cable and access road.

The water intake is located approximately 250 feet upstream of the falls. The water diversion sill blocks are located immediately adjacent to the intake. From the intake, water flow to the turbines is directed through a 60 inch diameter penstock. The penstock runs 300 feet to the control building then straight down for 120 feet into the underground power house through a bifurcation and into two 412 kilowatt Gilkes turbines. Water is discharged back into the Tazimina River at the base of the falls through an 8 foot high horseshoe shaped tailrace tunnel. Access to the cavern is provided by an elevator or ladder. The cavern contains two turbines, generators and auxiliary equipment. The intake, penstock, powerhouse cavern and tailrace are designed and configured to accommodate doubling the capacity to 1.5 megawatts in the future.

In 1998, Tazimina Hydro supplied less than 50% of the power required for all three villages, and by 2012 98.5%, due to strict adherence to maintenance scheduling. The hydro plant saves approximately 200,000 gallons of diesel fuel each year, which would be burnt in the diesel power
plant without Tazimina Hydro on-line.

This summer of 2014 INNEC has been awarded money from the Renewable Energy Fund Round 6 for a feasibility study to upgrade the capacity of the Tazimina hydroelectric plant to 1.4 megawatts. This increased capacity will allow us to sell more interruptable power for heat and help us to displace even more diesel fuel in this area.




---